how it works
You will be surprised how easy it is to enable and customize your slick menu on your website in a few clicks.
Enable It
Create a WordPress menu then simply enable Slick Menu and let the magic begins
Customize it
Style your menu the way you want it right from the WordPress customizer live preview.
Enjoy It
Now that your menu is super slick, enjoy it and let your visitors be mesmerized by it!
The

Features

Here's a small list of features that comes out of the box.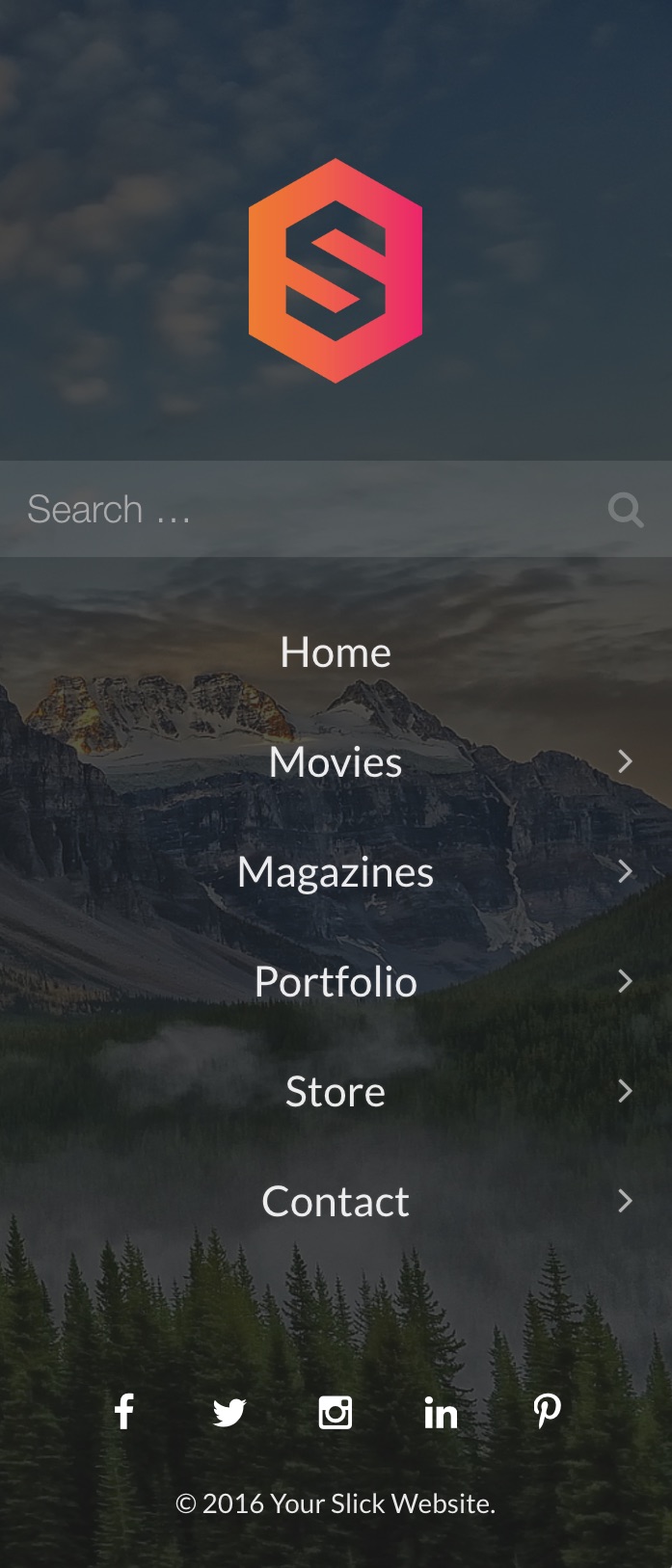 Fully Responsive
Slick menu works on any screen size, simply set a mobile breakpoint and your menu will become responsive whenever the breakpoint has been reached
Unlimited Levels
Create unlimited levels. Slick Menu will beautifully switch between levels. Each level can have it's own options and override global settings.
Level Widths
Each Level can have a different width, useful whether to showcase a fullwidth video, an image or to show rich content via widgets and shortcodes
Icons Library
Select Icons for your menu items from multiple providers: Dashicons, Elusive, Font Awesome, Foundation, Genericons as well as image and SVG icons!
Search Box
Easily enable a global website search box on the main menu level and customize it's look & feel to your liking
Background Images
You can easily add background colours, images, overlays with transparency options to each of your levels which leads to an appealing menu.
Background Videos
Video backgrounds are supported with or without sound. Simply insert a YouTube video ID of your choice! Control video start, end, repeat and opacity settings.
Animations
14 creative menu appearing effects, select between overlapping or covering levels and over 45 animations that can be selected to animate menu items.
Scroll To Section
Great feature especially for one pager websites. By simply inserting an anchor tag to your menu item, get a smooth scrolling to your anchored element.
Social Networks
Insert as many social networks as you want, pick a color and an icon for each network from the included Icon library.
Fully

Responsive

Adjusts automatically on any screen size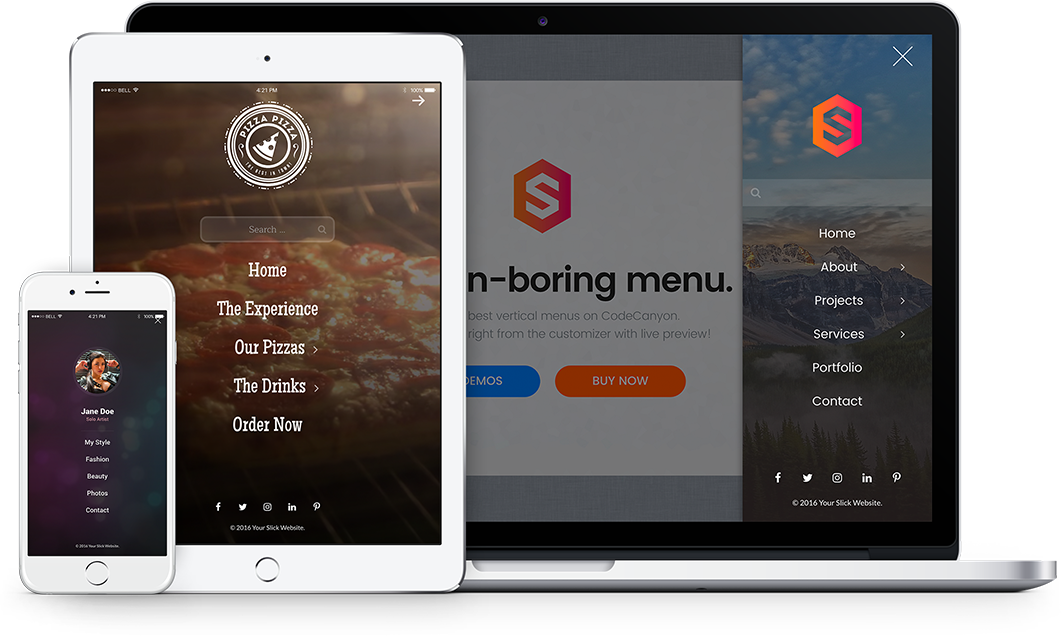 Unlimited

Levels

Each level is independently customizable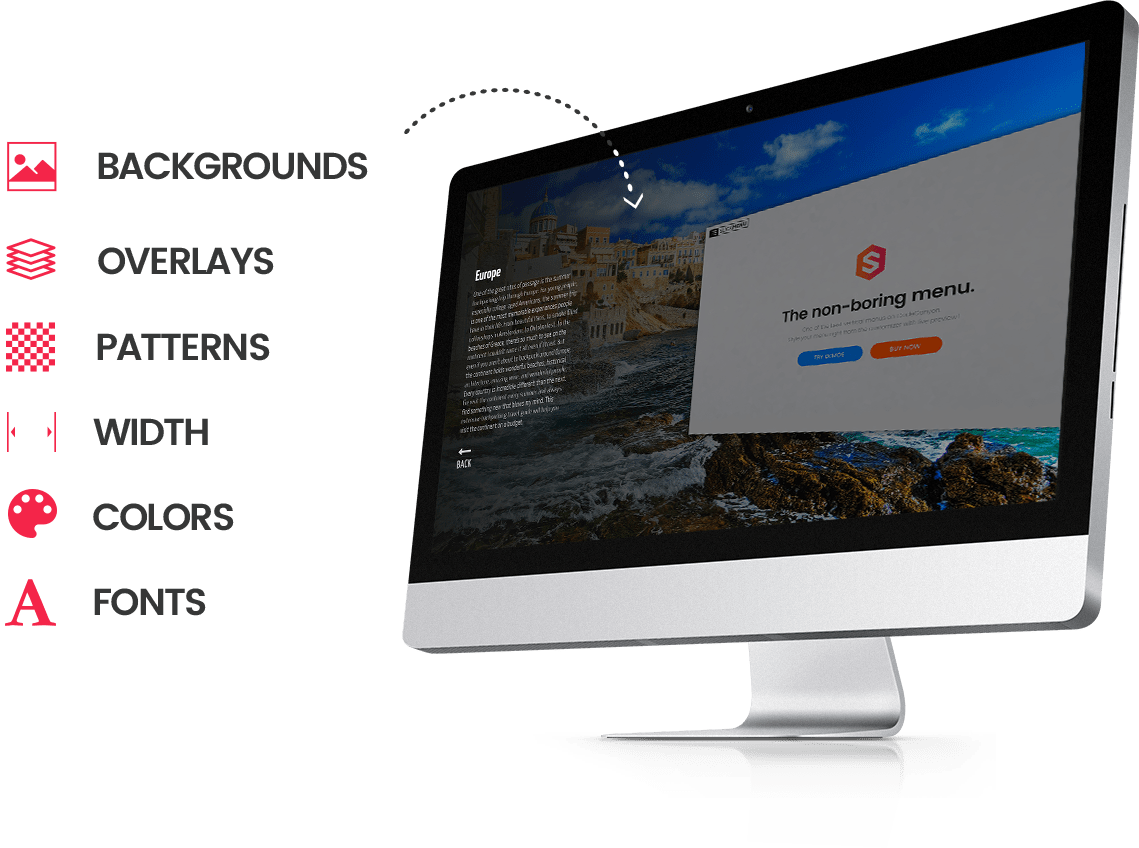 Background

Videos

Apply Youtube background videos to any level or to the site body. Videos will automatically appear as the menu level opens.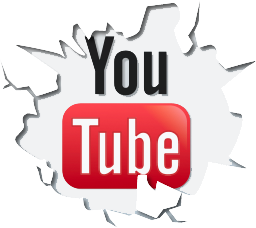 Smooth

Animations

Select between a variety of amazing animations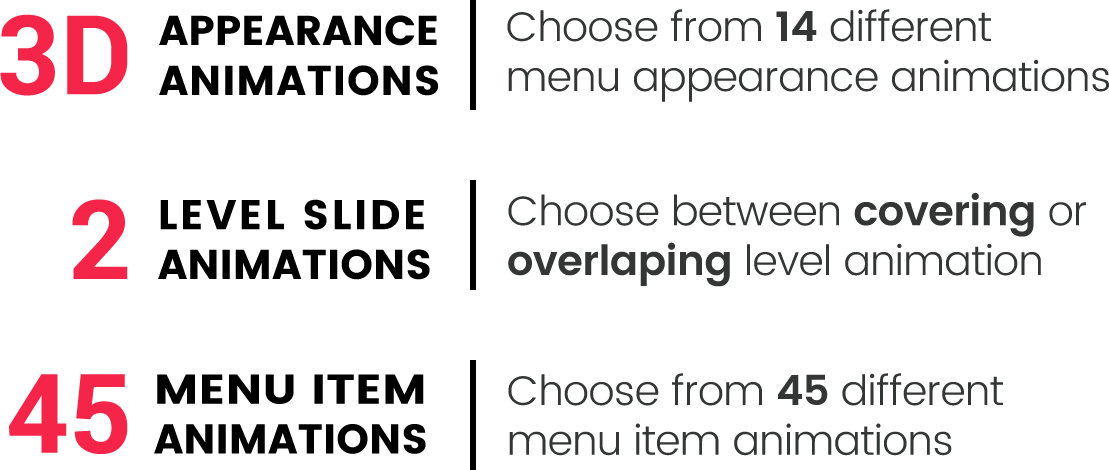 Google

Fonts

A huge font selection to choose from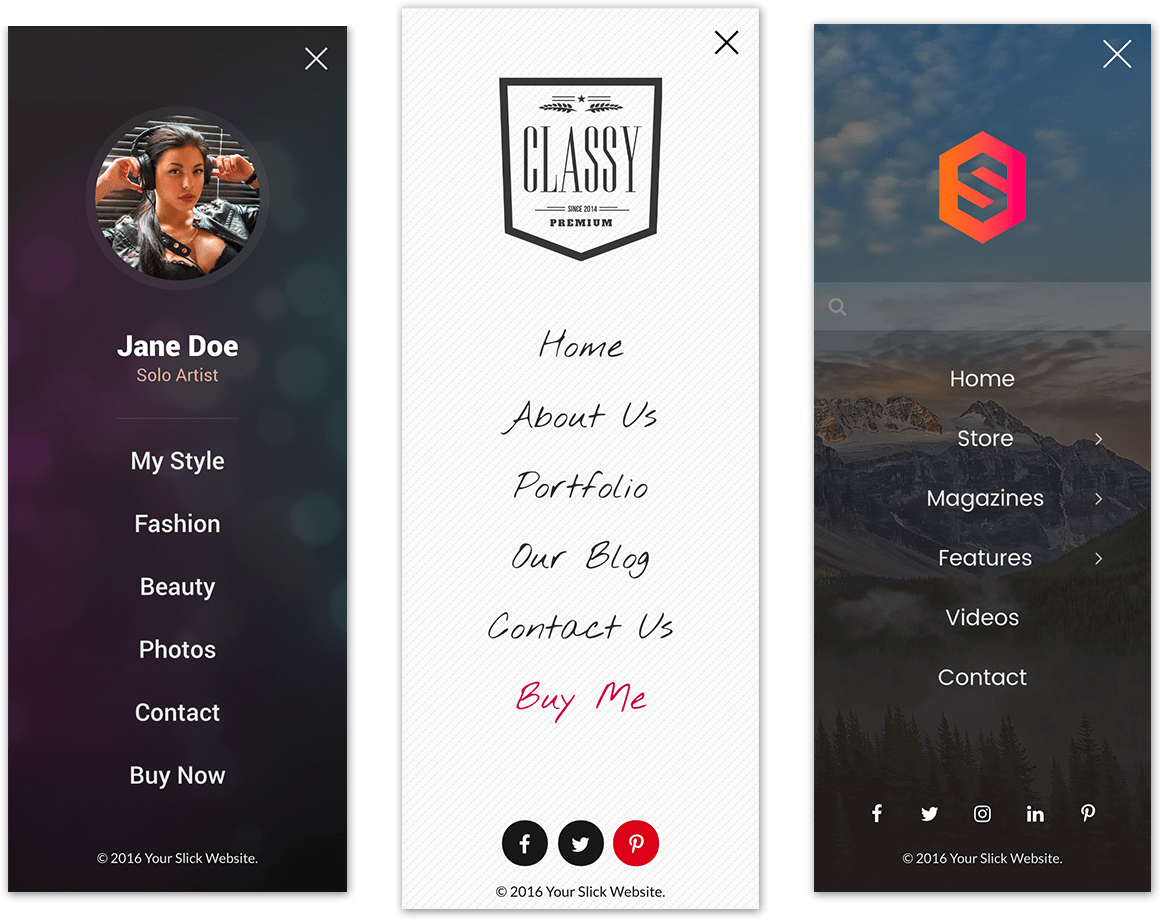 Animated

Hamburgers

Customize position, size & colors.
Select between 14 different hamburger animation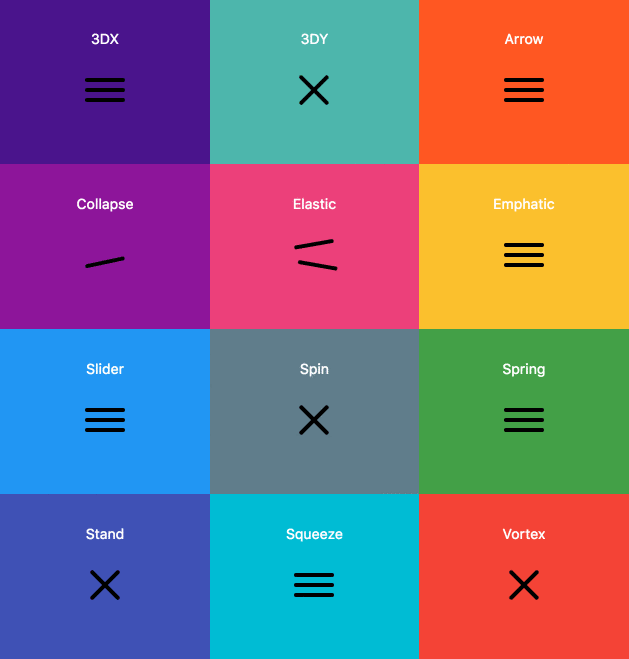 Icon

Library

Dashicons, Font Awesome, Elusive, Genericons, Foundation
Image icons + SVG

Smooth

Scroll

Smooth scrolling to your anchored elements.
Great feature for one-page websites.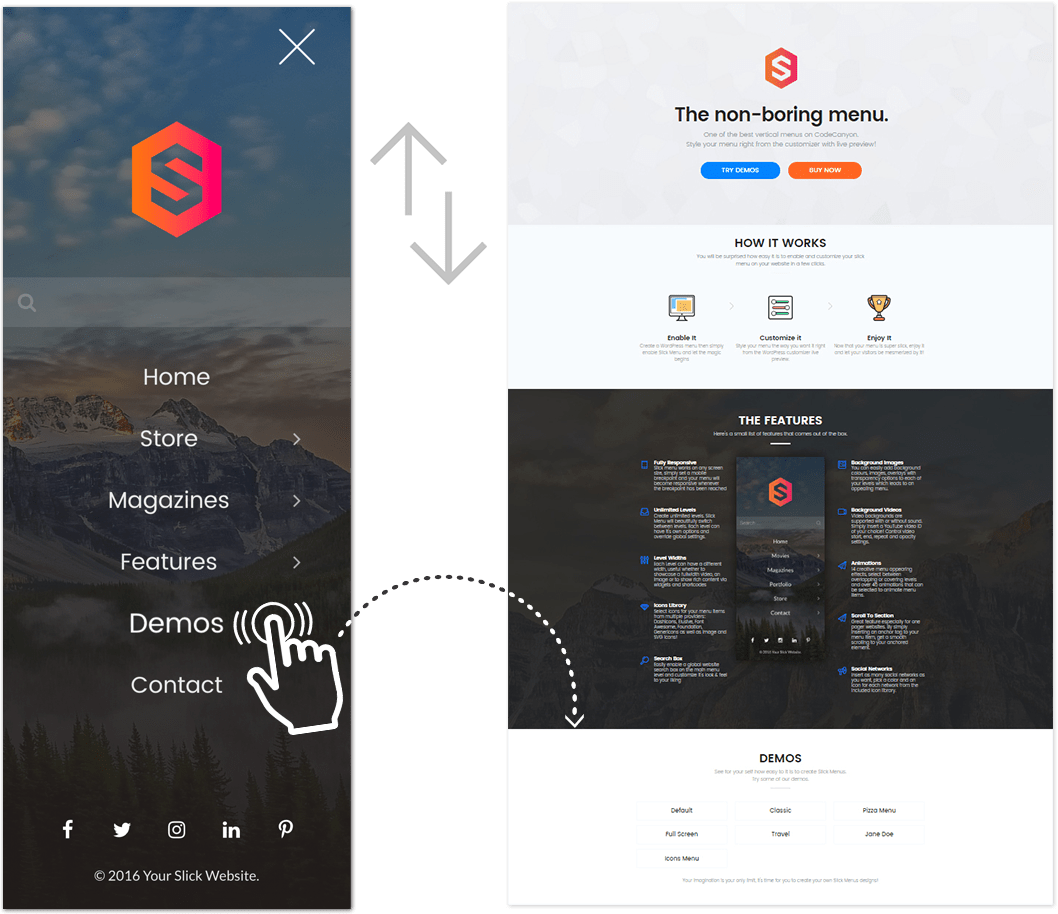 Developer

Api

Are you a theme developer ? The API gives you full control over your menus. Allows you to programmatically open, close or toggle menus. It will also allow you to add event listeners and perform custom actions whenever a menu or a specific level is open.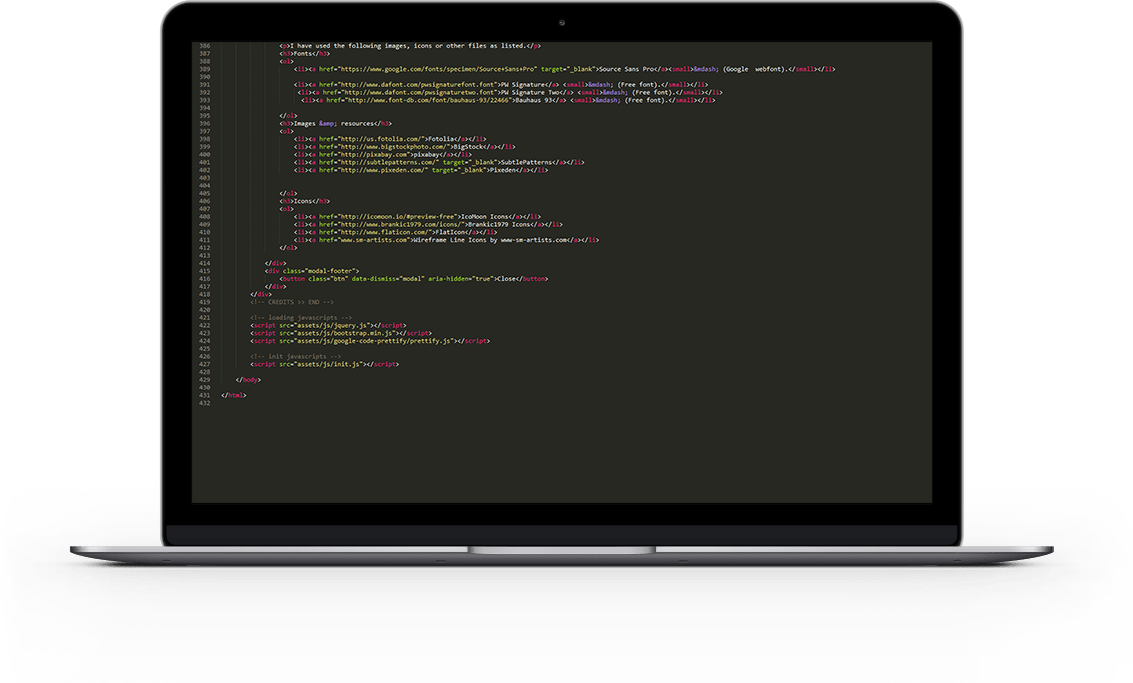 Featured

Demos

Try some of our included menu demos.
Your imagination is your only limit, it's time for you to create your own Slick Menu designs!
Pricing
Ready to Slick Up your website with Slick Menu? Get your copy today!
An annual license entitles you to 1 year of updates and support. Your subscription will auto-renew each year until cancelled.
A lifetime license entitles you to updates and support forever. It is a one-time payment, not a subscription.
Slick

Extensions

These free extensions will help you take your Slick Menus to another level
Slick Menu Social Networks
Social Networks add-on for the Slick Menu plugin that let's you add social networks icons within your menu
Slick Menu Duplicate
This is an add-on for the Slick Menu plugin that easily let's you duplicate menus with all their settings!
Slick Menu Import / Export
This is an add-on for the Slick Menu plugin that easily let's you import / export your menus including demos with all their settings
Slick Menu Dynamic Posts
This is an add-on for the Slick Menu plugin that let's you insert dynamic posts as menu items.
FAQ
Got questions? We've got answers. If you have some other questions, please visit our online help desk
Does it work with any WordPress theme?
Yes, Slick Menu should work properly on any well coded WordPress theme. If your menu is not appearing properly on a specific theme, please notify the theme author.
Will the menu affect my page load?
Absolutely not! We use advanced menu caching techniques that will make your menu load as fast as possible. You also have the option to load menus on demand via AJAX in case you have several menus.
Is it flexible?
Extremely! Lots of options included out of the box. Many Wordpress hooks are available for you to build plugins on top of Slick Menu as well as a Javascript API that let's you control menus via Javascript.
Can I include this plugin within my premium theme ?
Unfortunately no, each domain will require it's own license. More Info